We're very excited to showcase some amazing new features for your Hub Profile! These have all been highly requested by our Hubs and we'd like to take a moment to thank all of you who provide us with feedback and insights on how to serve you better.
To view and utilize these features, please head to your Hub Profile by following the gif below.
Unique URLs can now be made for your Hub profile so that Learners recognize you at first sight from the link itself!
Setting up a customized URL is simple: press 'Update Hub Profile' and type your desired URL in the top right corner of your Business Card. Next, press the copy icon in the field to share the link after saving your new URL. Click the 'Confirmation' tab at the top of the page and then press 'Confirm' to save your changes!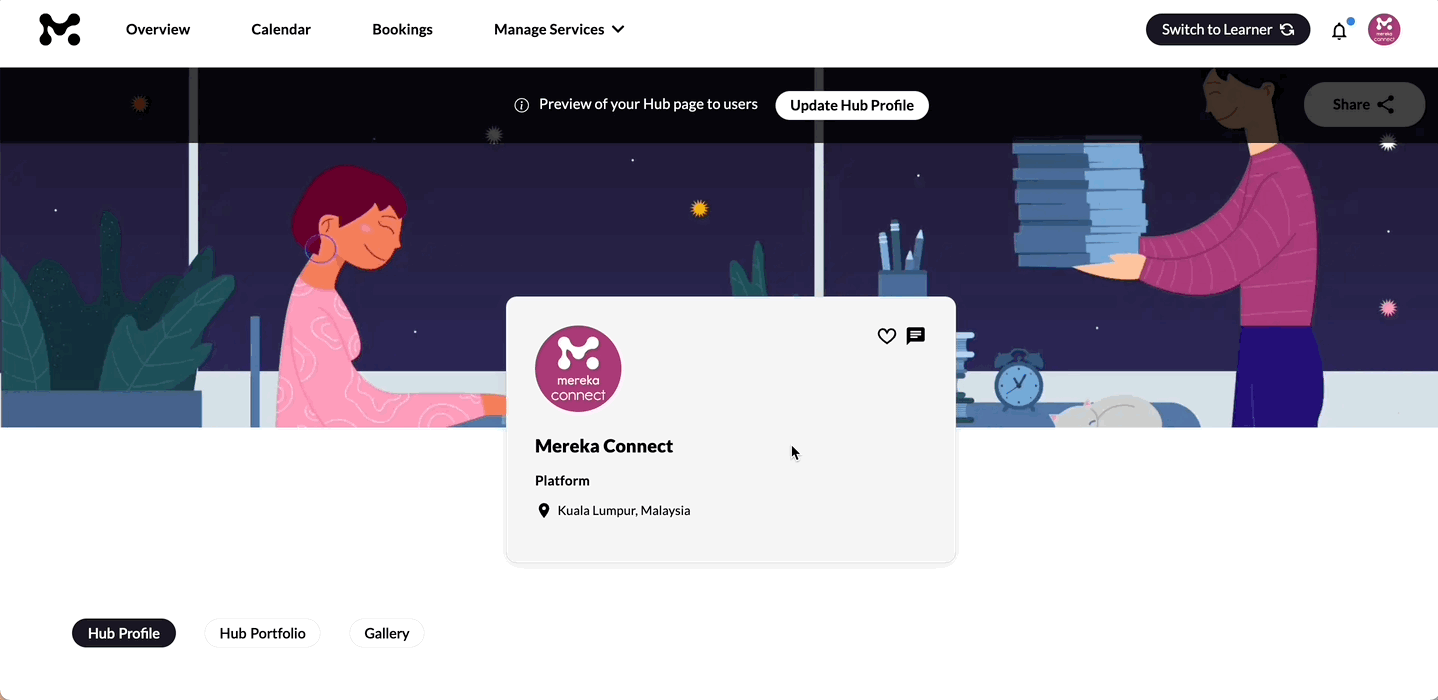 You can now add an intro video, or any video about your Hub that you're proud of. Spread your brand awareness!
You add it by going to 'Hub Details' when updating your profile, and inserting your video link into the 'Intro Video' field. This video will be shown together with your Hub Description in the 'About Us' section of your Hub Profile.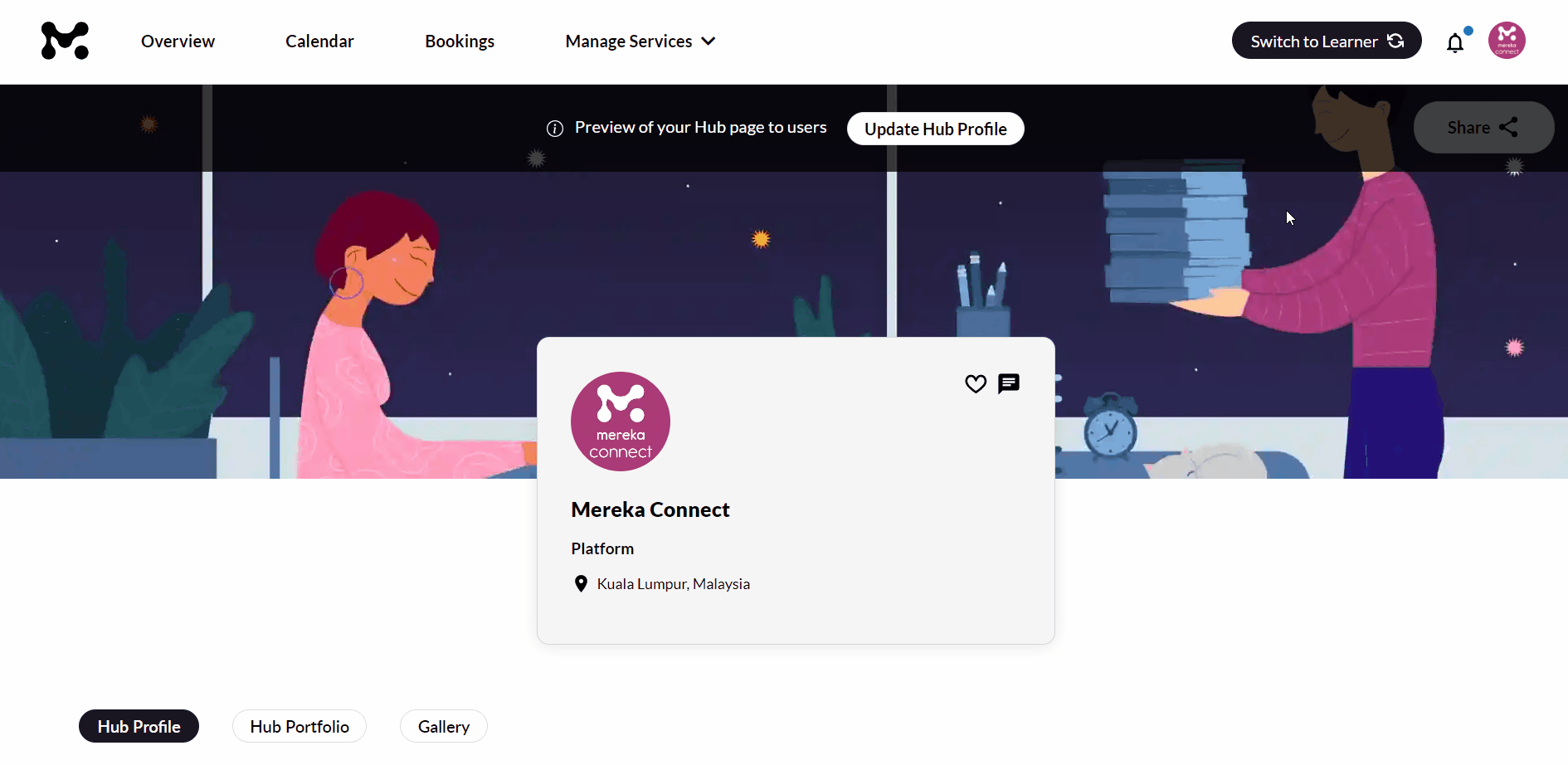 Have some rad Hub photos in your back pocket? Make your photographer feel appreciated and display them! These photos can show Learners how cool your Hub and its facilities are.
You can add 3 - 5 pictures through the 'Hub Details' tab when updating your profile. These pictures will then be shown in the 'Gallery' section of your Hub Profile.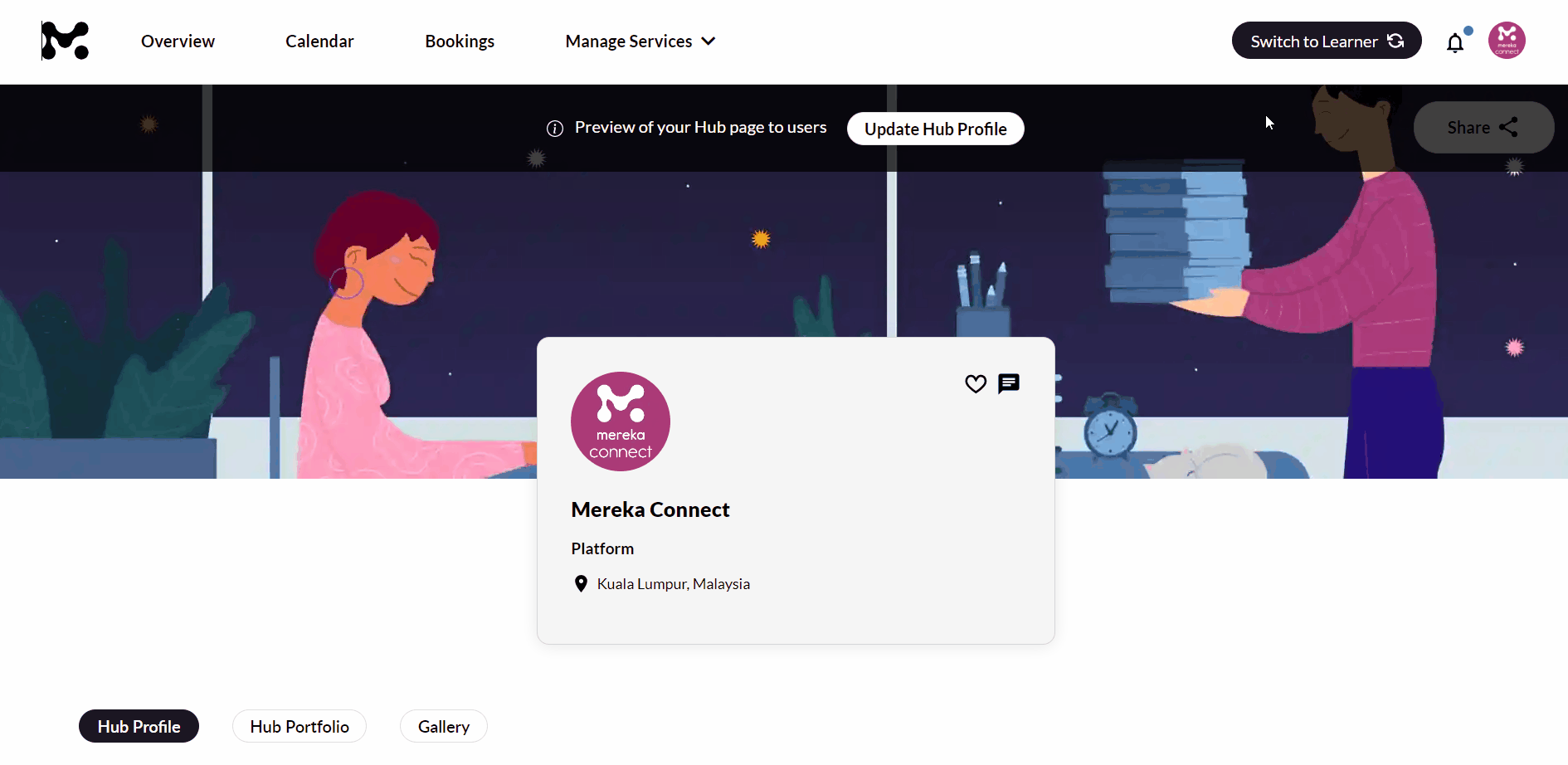 Show off your past projects and achievements! Let the world know what your Hub has been up to and present to your Learners the kinds of skills your Hub has refined.
You can display the project(s) you have worked on, the description of it, the time period of the project, relevant photos/files, and external links too! Head to 'Hub Details' when updating your profile and scroll down to 'Projects' to add them, you can add multiple of these by clicking the + button.
Once done, you can view your Projects in the 'Hub Portfolio section of your Hub Profile.
Your Hub description now has a rich text field, which means you can bold/italicize/underline/strikethrough your descriptions, change font color and size, and more! This gives you further customization options and increases your freedom of expression!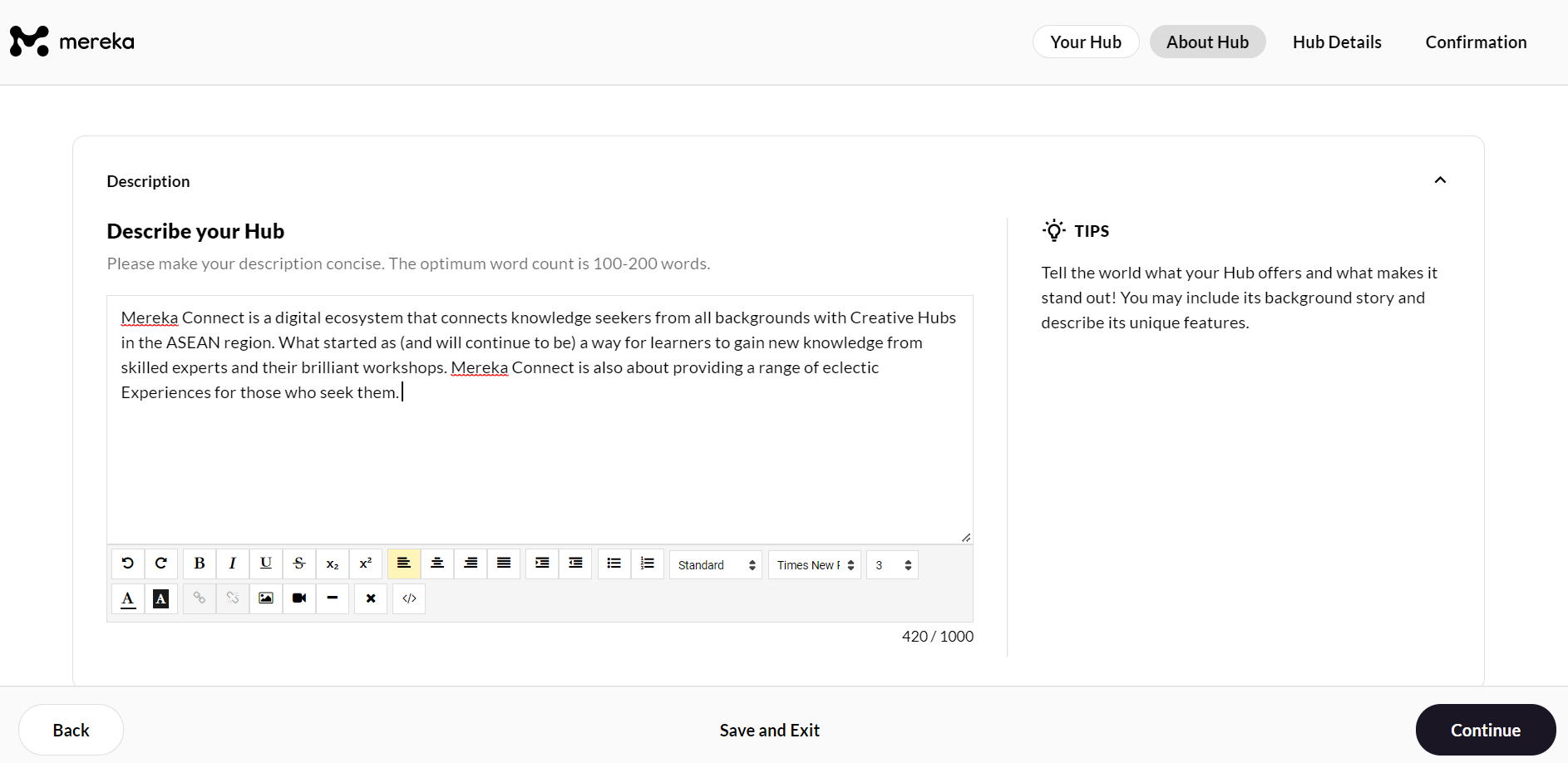 You also can now select a Focus Area for your Hub. This helps us and your Learners understand your goals and ambitions as an organization. Currently there are three available options, which are Creativity, Sustainability, and Digital Economy.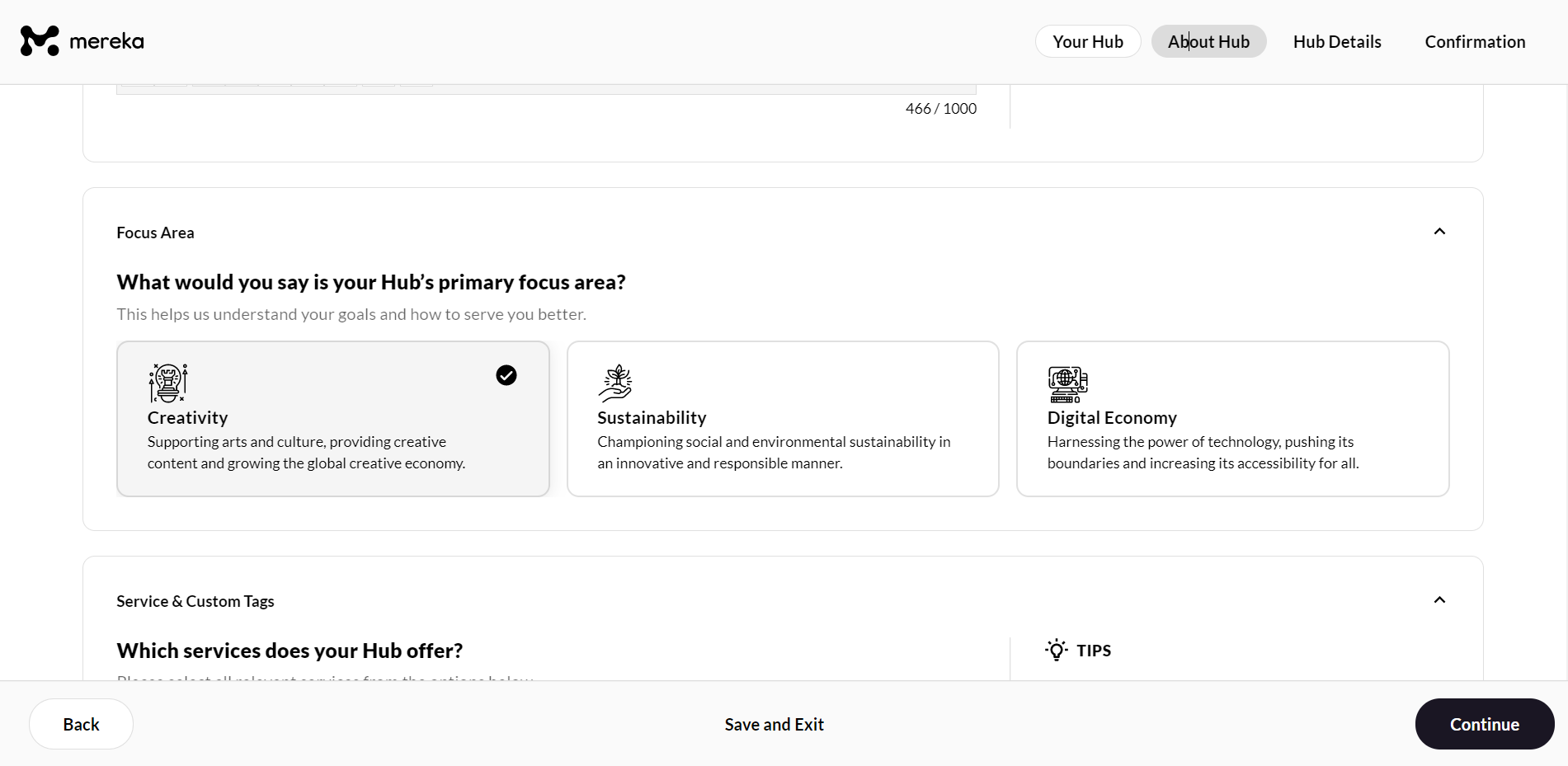 We hope you're as happy with the changes as we are, and we're looking forward to seeing your breathtaking pictures and videos! If you have yet to create a Hub on Mereka Connect, you can check out
this article
. In the event you have any additional questions, please do not hesitate to reach out to us via
team@mereka.io
.
RBAC simply means Role-Based Access Control and defines a user's access to certain features based on their assigned roles. Which means, you can now give the team members of your Hub different permissions aligned with their actual roles within your organization!
Below are the roles currently available on Mereka Connect:
👑
Hub Owner
- one owner to rule them all. This is the user who created the Hub, and they're the one and only.
👨‍💻
Admin
- a user who helps the Hub Owner manage their Hub. They have the same access as the Hub Owner does, except for deleting the Hub.
🕵️
Expert
- a user whose main permissions are managing services and bookings. Experts have limited access to the Hub dashboard (e.g. can't access Hub finances and settings).
👫
Collaborator
- an external user (not a team member, unlike the roles above) who is involved in managing a particular service. Collaborators can only have access to the services they have been assigned to, and do not have access to the rest of the Hub dashboard.
A standalone sub-role which can be created either out of an existing team member or an external user is a
Host
. Hosts can be added to a particular service. It is also possible to add Hosts from other Hubs or add new users who are not registered on the platform yet.
Features that can be used with this RBAC update:
📩
Inviting team members to join your Hub
Inviting team members into your Hub is a breeze! Just click the "
Invite Team Members
" button in your Settings, and add them by typing their email address or name. You will also be able to select their roles here! Psst, you can upload a CSV file if you want to invite them in bulk ;)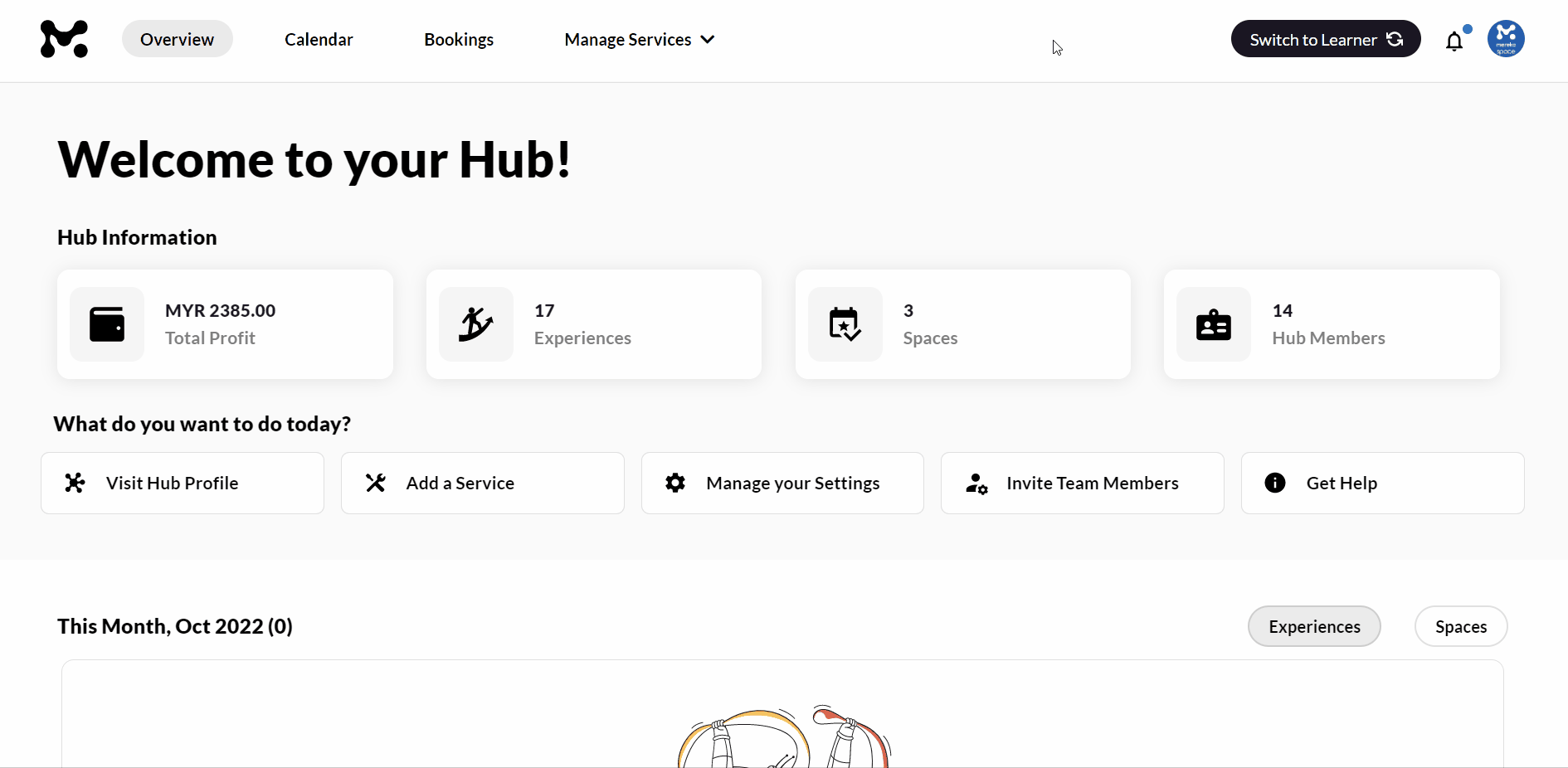 ⬆️
Updated Host adding interface
We have updated the user interface for adding a Host in the Experience form. You can now add
users from other Hubs
, in addition to
Hub Experts
and
users who aren't registered on Mereka Connect
. And that's not it - you can also assign access levels to these Hosts, ranging from "Full Access" to "View Only".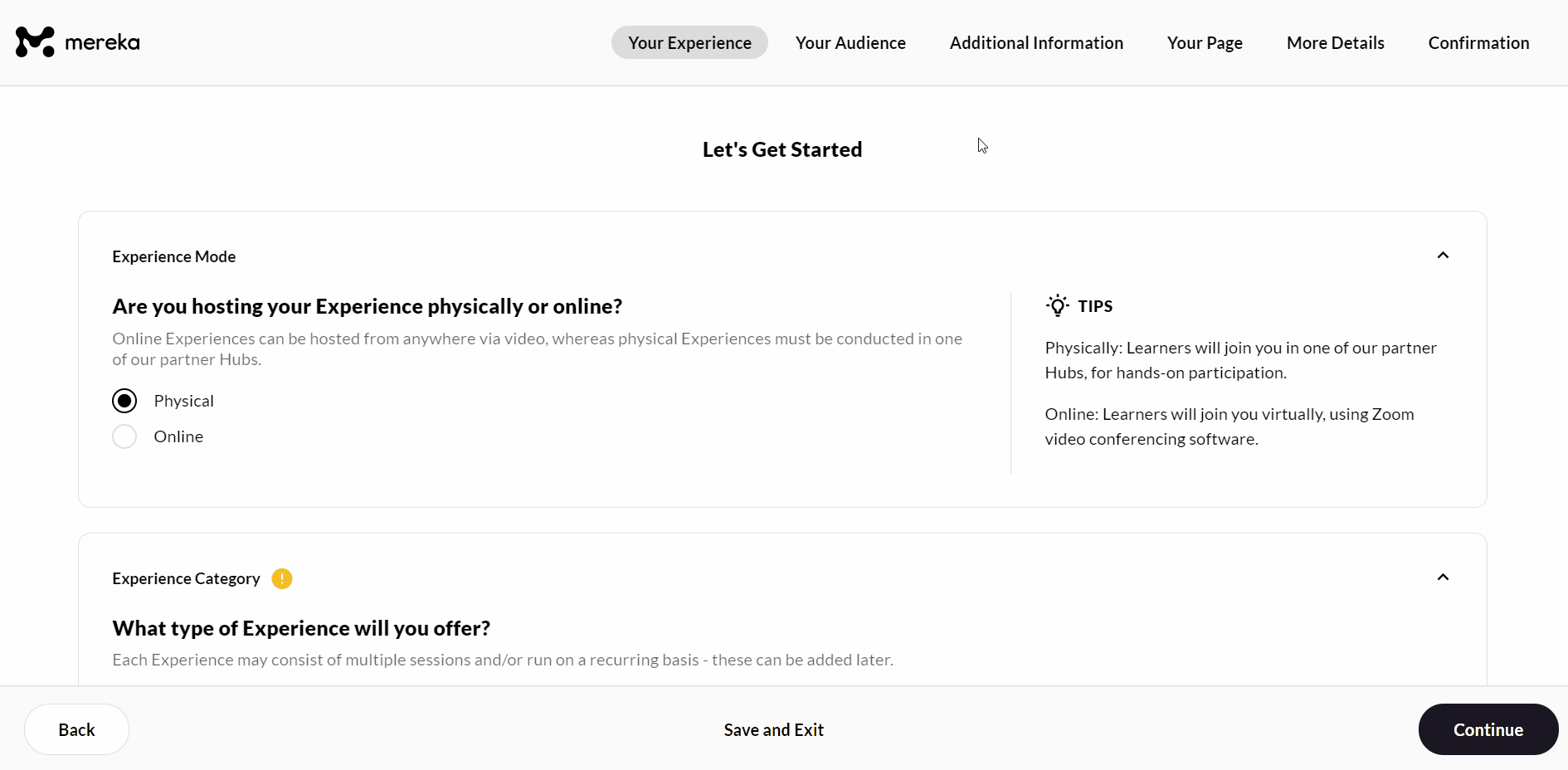 🖥️
Customizing your team members' permissions
You can review your team members' permissions according to the role assigned to them. If your Hub is on a paid subscription plan, it is possible to
customize permissions
for each individual user by clicking "Manage Access". This option is disabled for our free Connect plan. It is also possible to
switch a team member's role
by clicking the dropdown menu with the current role - the same menu allows you to
remove team members
if they are no longer a part of your Hub.